Soughton Hall wedding | Mia and Josh
I've been really looking forward to Mia and Josh's wedding at Soughton Hall in Flintshire. After a fabulous fun engagement shoot I knew it was going to be a great day. I wasn't wrong!
I had a lovely morning with Mia at her parents house while she got ready. I was treated to a piece of her mum's 'mars bar cake' which you really need to taste! Once again Mia's bubbly personality shines through in these pictures. Everyone was just so friendly it was a real pleasure to be there recording it.
Garston Bridge Chapel
Their wedding ceremony was taking place at Garston Bridge Chapel. I had not had the pleasure of photographing a wedding there before and what a great experience it was. Garston Bridge Chapel was a welcoming place with a genuine kindness about it. I was given free reign to photograph the wedding but stuck to my usual low-key style. Personally, I believe it's better to get great wedding photos without being noticed. Something the pasta personally thanked me for after the wedding.
The service was lovely. It was obvious that the pasta knew Mia and Josh well which made for a personal wedding.
Soughton Hall Flintshire
After the service, we made our way to Soughton Hall Flintshire for the wedding celebrations. Mia and Josh had glorious sunny weather so their guests made the most of it by staying outside. I really enjoyed photographing this wedding at Soughton Hall, everyone was just so friendly. I've only met Mia and Josh a few times but it's easy to see why they are such a well-loved couple.
Mia wrote "We absolutely love them! Thank you so much." You're welcome, Mia!
I love this picture, it says so much. The undivided love for this lovely young lady who's clearly bashful at the prospect of hair and makeup.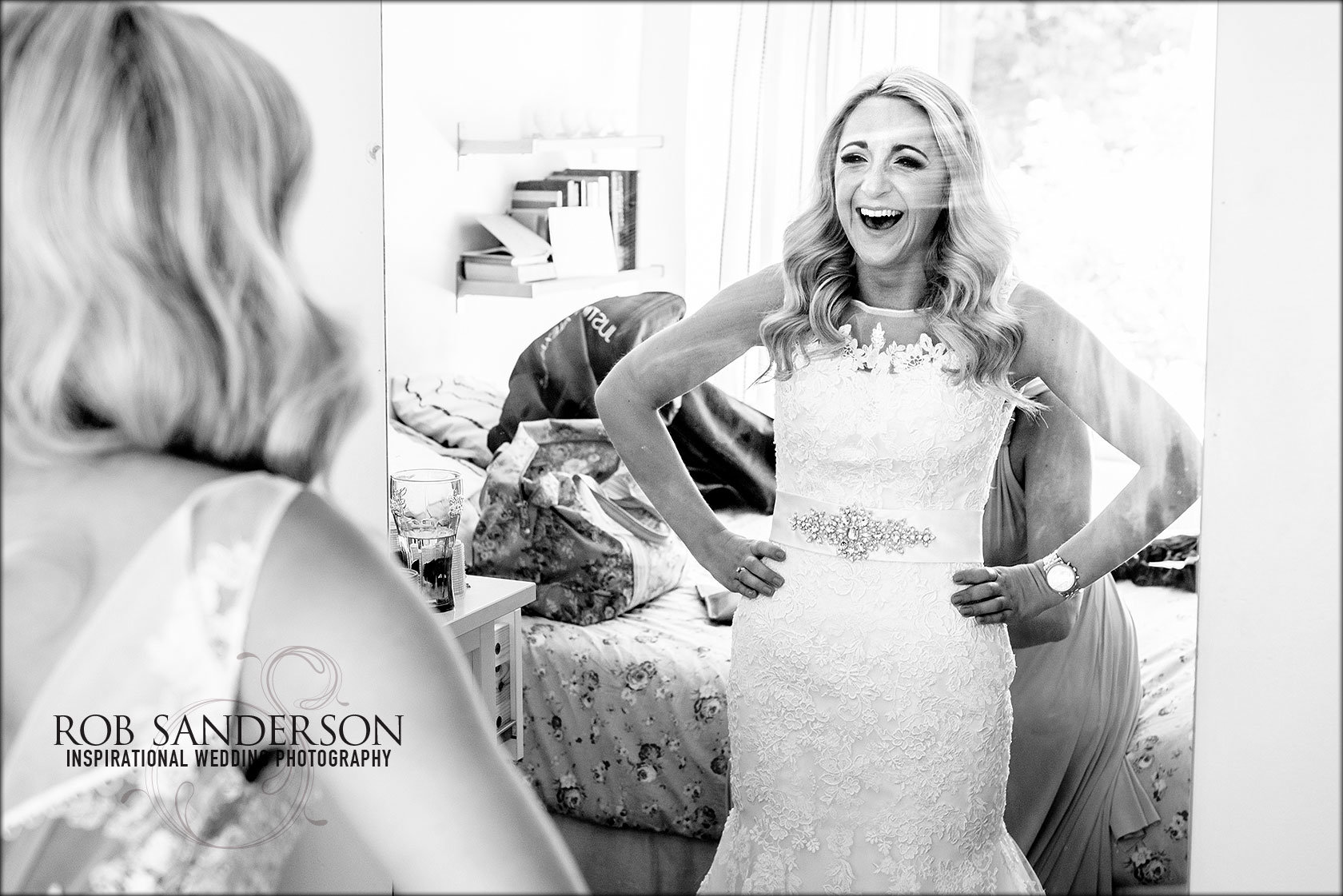 When a bride catches her reflection in the mirror for the first time is one of my favourite parts of the day. A real moment for Mia, I love this picture.
Father and son share a moment, that thumbs up says it all.
I guess you could say Josh was happy! Its great when things like this happen – priceless!